Stave Churches II (Borgund)
on my journeys through Norway and Sweden I've stumbled on many fascinating churches. Here I list some of my pictures from the (for me) most amazing stave church I've found, the one in Borgund. Approximately every seven years the wooden churches are being covered with tar, over and over, to protect them against weather, insects and the time itself.
When I arrived at the place of the stave church of Borgund, the church was entirely black - making the impressive view even more captivating to me. Not far from the highway ways a long road passing by on weed ... and there ...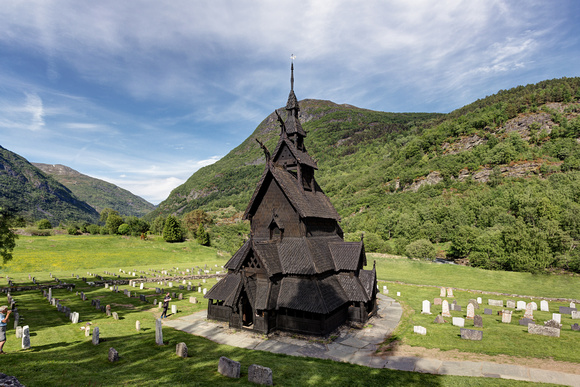 in the midde of the weed one could see that bizarre little piece of artwork, the stave church of Borgund. The scenery was surreal looking but even though sooo real. I've seen many strange buildings in the world but here in the middle of the weed along the small road this black architactural eyecandy was attracting visitors.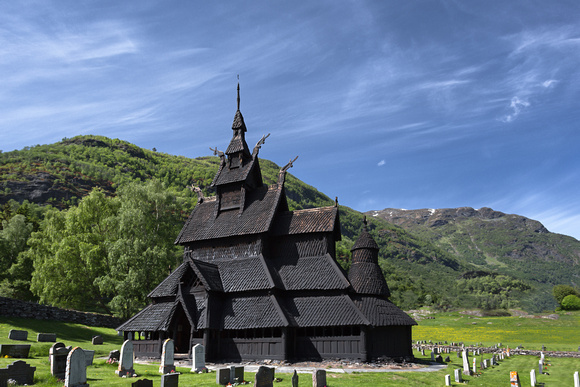 A really nice place to rest while travelling from one place in Norway to another.
One can say it's a small church, yes. All these stave churches are quite small, according to the type of architecture and thinking of the time they were built. The year the church was built is unsure, but the wood for the church was cropped in winter 1180/81 (according to Wikipedia). They found traces of an even older church underneath the basement. It was a time before the most known big cathedrals in Europe were the belief in many places changed from heathen to christianity.
One the first picture one can see one 'tiny' person to get a feeling about the size of the church. Standing inside it's looking very small, one would assume it's way bigger but the impressive attracting look is mainly the outer part, attracting many people long ago and nowadays.